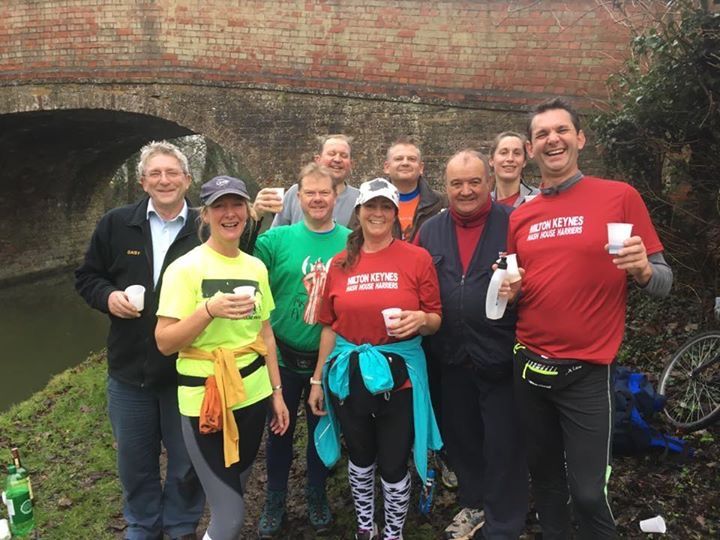 We meet every Monday night at 7pm throughout the year. During the winter months bring a torch!
We Hash in and around Milton Keynes all year round.
The HareLine page gives information on the time and location of our future events.
If your not sure what Hashing is, we say it is a Drinking Club with a running problem.
We are not a dedicated running club, but more a social group that likes to do a some running. (or not in some cases!) Generally the runners trail will be 3 or 4 miles.
You do not need to be fit to come out on a Milton Keynes Hash trail. We are different shapes, sizes and ages. Our trails are filled with 'checks', 'holds' and 'fish hooks' to make sure that even the most dedicated of sofa surfers can tag along and still keep up with the pack. There is a very wide mix in the running ability of our members, so you should always be able to find someone to, stroll, walk, jog, or even run with.
If you want to know more about hashing checkout this Wikipedia article.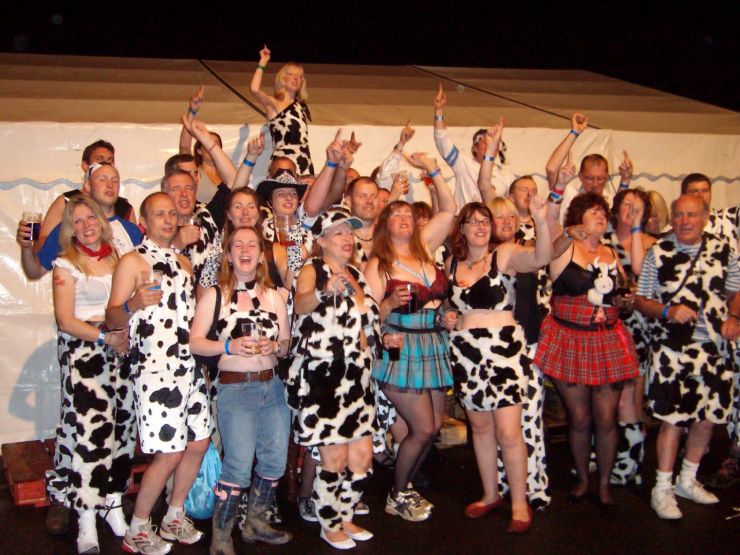 We usually meet at the pub about 6:50 pm and go for a gentle or not so gentle run for an hour or so. There are also special Hash events where we let other people take part, such as the London Marathon. (Pub Crawl that is!). We pre-mark our trails in white flour. You can front run with our athletic bastards or walk round at the back with the knitting circle.
Afterwards, we head back to the pub for beer and the Hash Circle. We normally have our circle after everyone is back from the run and had a drink.
If you are new to Milton Keynes Hash we welcome you to try out our unique down down 'beer'. We pride ourselves on its supreme lack of quality! The post run circle involves beer(?) being given as a down down. The down down is so named because it should be consumed in one go after a little song that ends "drink it down down down down...". The song is sung by those present in the circle. The RA (Religious Advisor) is responsible for issuing these down downs. Down downs can be given for various "misdemeanours", such as falling over or getting lost on trail, or anything else that may be considered silly, either on the night or at some other time in the past week. Confusingly down downs are also awarded to celebrate notable achievments and milestones.
If you want to find out more about us, then please Contact Us
Hash Names
For reasons lost in hash tradition all hashers have a nickname. Hashers will normally be named by the RA during the runs closing circle. We try to be creative with our nicknames and they are only given after a suitiable misdemeanor or something you have said, it's likely the name given will be a double entendre or have some inuendo to it. Hashers are rarely named on their first run, it may take two weeks or two months but you will get a name. Whilst there are no rules on the hash you can't pick your own name!
Forthcoming Events
Willen Dragon, Willen Lake - MK15 0DJ
Sep 26, 2022, 7:00 PM – 9:00 PM