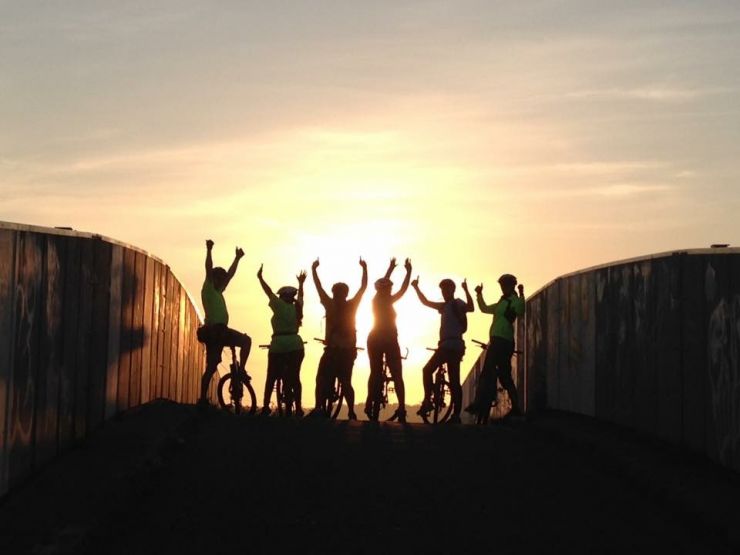 Bashing! What is it you ask? Well, it's like Hashing only done with a bicycle. Its no more complicated or difficult than that. We don't do weekly trails like we do with the running, but we try to get a few dedicated bike trails done throughout the year. Just like Hashing there is a big following of Bashing and groups dedicated to it throughout the uk and the rest of the world.
When we do get to do a trail we get to use the fantastic local area and get to cover a bit more distance. In 2016 we hosted the bi-annual Nash Bash event, a weekend dedicated to off road biking, drinking beer and great fun with friends. Bashing gets us closer to even more pubs and means we can cover even more ground. Typically our Bash's are run on a weekend rather than a week night and the trails can go on for a few hours or more. Keep a look out for info and updates on when our next Bash will be.
Forthcoming Events
On On For OZ - Australia Day
Jan 26, 2020, 11:00 AM – 12:00 PM
ONONforOZ is a Hash group set up by Haggissimo. The aim is for Hash groups to go for a little jaunt on Australia Day, Sunday 26th January and hopefully raise a little money for the relief effort in the bush fires. Many hash groups around the world have already signed up. All monies raised will go to charities.
MKH3 will be joining Hare & Hounds Hash House Harriers at the Old Sun, Ampthill at 11am as part of our little effort.
Blow Felt and LuLu from H5 will be your hares.

Let's all try and get along and support ONONforOZ, and be part of what could easily end up as a World record breaking event with so many countries, hashes and hashers taking part.
Wear some aussie stuff...wear a firemans outfit...wear a red dress..whatever you like, come along, join in this World Wide Event and support those that need our help at the moment.
For more information search for OnOnForOz on Facebook
Leap Year Hash - London
Feb 29, 2020, 1:00 PM – 4:00 PM
Leap year Hash number 9
Meet as always below the Elizabeth Clock Tower (Big Ben).
A local pub (to be arranged) will be organised to meet beforehand, store bags and continue the festivities afterwards.
Check London Hash page here
Friday 13th Hash - TBA
Mar 13, 2020, 7:00 PM – 9:00 PM
Friday 13th Hash

Crusty Ring & Friction Burns are hosting the Friday 13th Hash this month