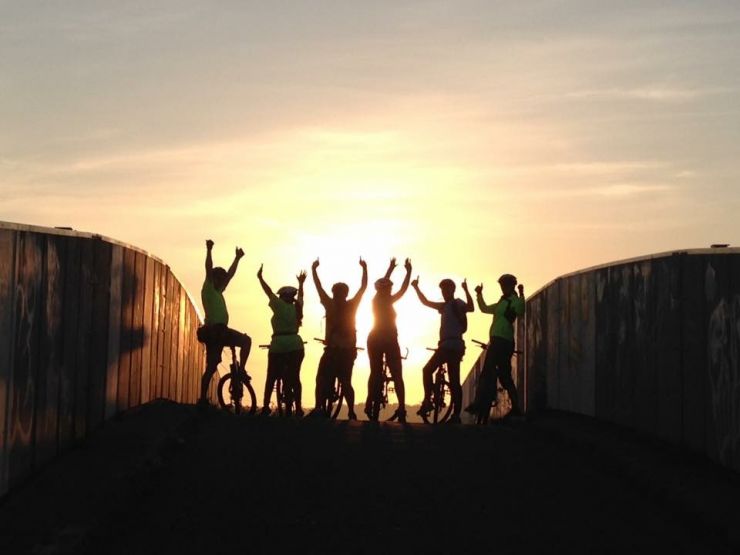 Bashing! What is it you ask? Well, it's like Hashing only done with a bicycle. Its no more complicated or difficult than that. We don't do weekly trails like we do with the running, but we try to get a few dedicated bike trails done throughout the year. Just like Hashing there is a big following of Bashing and groups dedicated to it throughout the uk and the rest of the world.
When we do get to do a trail we get to use the fantastic local area and get to cover a bit more distance. In 2016 we hosted the bi-annual Nash Bash event, a weekend dedicated to off road biking, drinking beer and great fun with friends. Bashing gets us closer to even more pubs and means we can cover even more ground. Typically our Bash's are run on a weekend rather than a week night and the trails can go on for a few hours or more. Keep a look out for info and updates on when our next Bash will be.
Forthcoming Events
MKH3 Christmas Party Away Day to Stratford upon Avon
Nov 30, 2019, 11:45 AM – 11:15 PM
DRESS CODE CHRISTMAS JUMPERS AND HATS
11:45 Meet at The Buszy Milton Keynes
Travel to Stratford upon Avon - Coach drop off and collection point
13:30 Lunch in Stratford upon Avon
Explore Stratford upon Avon - Tough arduous research is currently being undertaken to bring you a list of suitable drinking establishments, more info to follow.
23:15 Meet in Stratford upon Avon (TBA)
Travel to Milton Keynes
00:45 Arrive Milton Keynes Central Railway Station
Make your way home
Cost for coach £10 per person, pay money to Daisy or transfer to MKH3 account.
We have booked a fixed price lunch at Zizi in the town centre, it is £19.95 per head although some dishes do attract a supplement. Friction will collect monies for the food and the hash will sort the tip for the staff. Their is a bar in the room we have bboked so people can purchase their own drinks.
We need to pre order the food, can you whatsapp me your choices. THE MENU IS HERE

Whose Paid
Arseover Tit, Bell End, Carpet Burns, Crusty Ring, Cum Dancing, Daisy, Dark Horse, Doggie Bag, Friction Burns, Good Head, Messy Discharge, Nice Flaps, Ovette, Rubber Johnny, Slush Pussie, Strapon, Taxi 69, Third Leg, Titanic Dickhead.